College is expensive, with many students paying $160K or more for a four-year degree.
Elsewhere, we've discussed whether college is worth it, how to decide whether college is for you, how to weigh the downsides of college against the payoffs, and top college alternatives, so we won't go into all of that here.
Instead, we hope this post will serve as a helpful resource to help you identify alternative education opportunities that don't cost $160K and a debt sentence.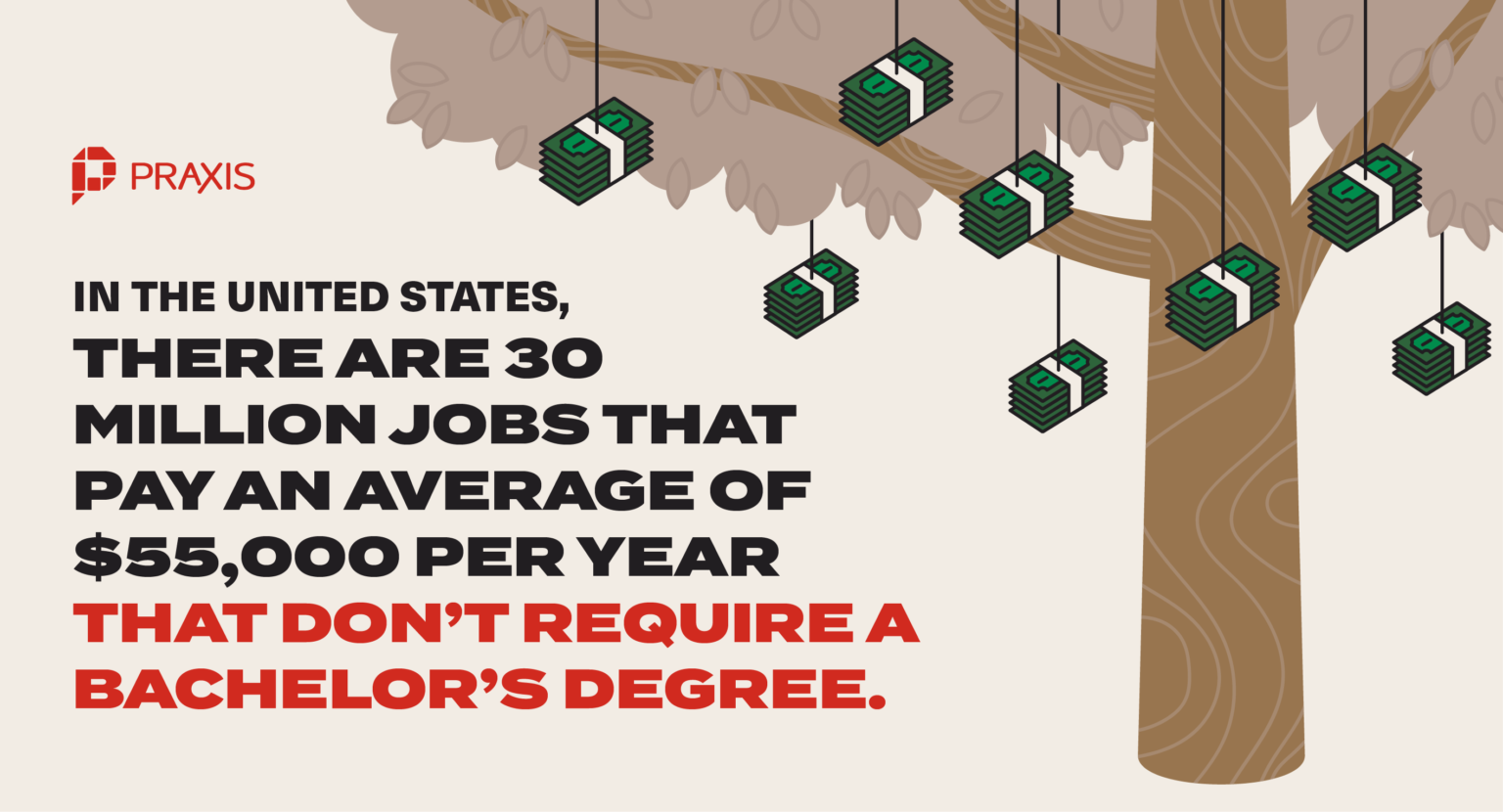 Below, we've rounded up some of the best education opportunities and training programs available. Spoiler alert, none of them cost $160K.
1. Join a Career Bootcamp to Fast-Track Your Business Education
Career bootcamps are training programs that help individuals to fast-track their careers by providing training, mentorship, career coaching, and, often, job opportunities. A career bootcamp aims to accelerate your learning through hands-on training, build your network, and help you build your portfolio (and confidence) through real-world projects. Many career bootcamps offer income share agreements (ISAs) as a means of deferring tuition until you start earning above a certain income threshold.
Below, we've rounded up some of the best career bootcamps available today.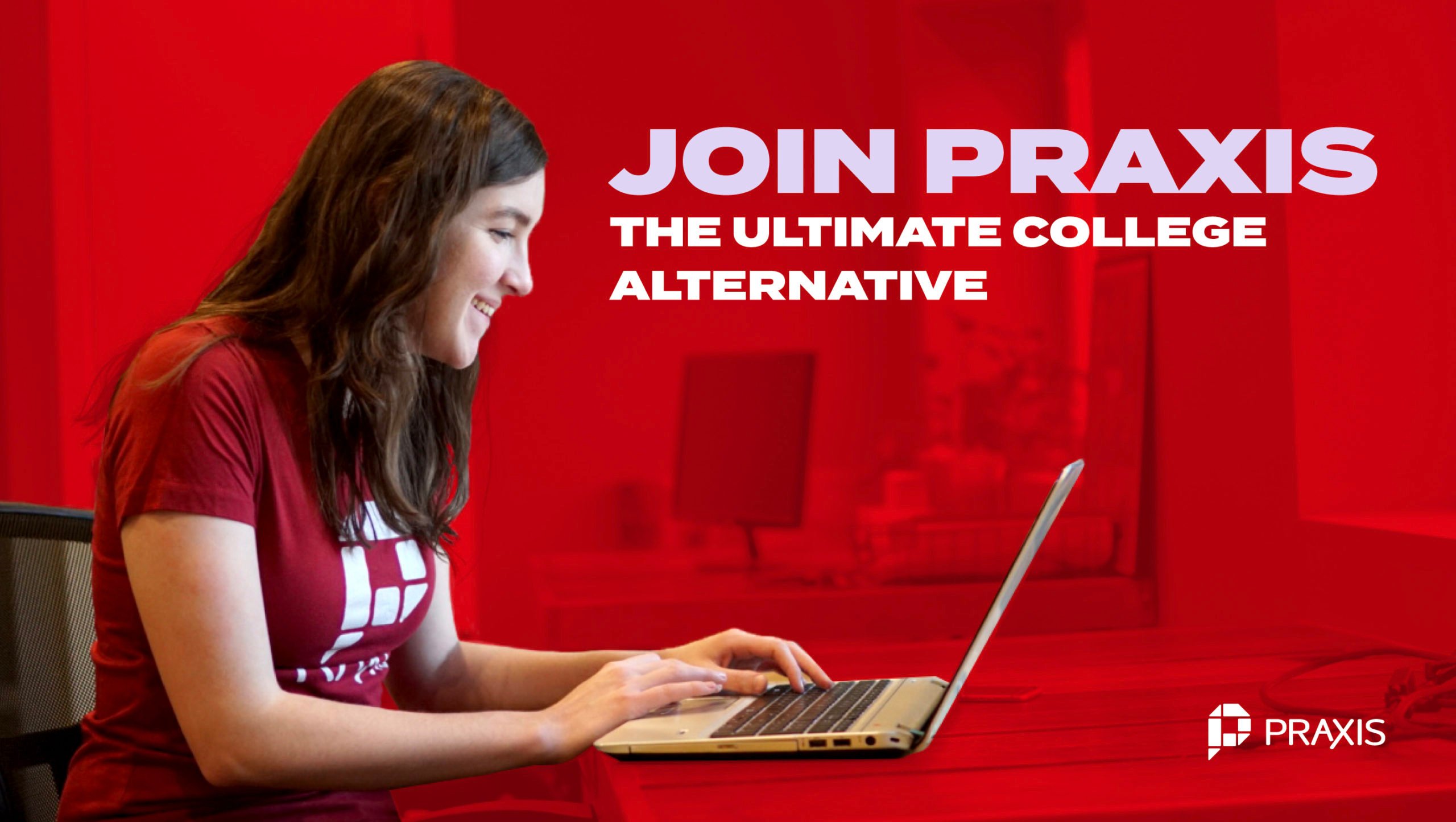 Praxis, the Ultimate College Alternative
Disclaimer: Obviously, we're a bit biased, so naturally, we're including ourselves in this list… but read on to learn about many other great programs.
Praxis is a college alternative that puts you in the driver's seat of your education – and your career. The 12-month program involves a rigorous 6-month remote bootcamp and career coaching that prepares you for the workplace, followed by 6 months of on-the-job mentoring and coaching at the full-time job, which we'll help you land.
Through guided self-directed learning, Praxis will help you explore your unique interests and talents, build your skills, and match them to in-demand business skills to help you build a personally-fulfilling career. You'll work with inspiring people, learn from experts, and complete projects that showcase your skills and ability to create value.
Praxis costs $12K, and it comes with the Praxis guarantee: If you don't find a full-time job within 6 months of completing the bootcamp, your tuition is free.
Plus, Praxis graduates' average first-year income is right around $50K, and 93 percent of Praxis participants have full-time jobs at graduation.
Sound good? Check out our Program Guide.
Prehired
Prehired is an intensive 12-week sales bootcamp that teaches students the fundamentals of sales and culminates in a "Science-Based Sales" certificate. The bootcamp is online, and participants can complete it at their own pace, which makes it possible to participate even if you are working full-time. The program includes recorded lectures, readings, assignments, mock interviews, and more, and participants can communicate with their instructors via email, Slack, video conferencing, and phone.
Participants only pay once they've landed a job of $60K or more and then contribute 12.5 percent of their income for 48 months, up to a cap of $30K.
SV Academy
SV Academy is a 4-week online program that allows participants to be mentored by Silicon Valley's rising stars. Students participate in an intensive 300-hour technology sales bootcamp and are then paired with a rapidly-growing tech company, where they receive a year of on-the-job coaching. Participants can choose between paying tuition ($10K) and participating in the program for free while working at a partner company.
General Assembly
General Assembly is a private for-profit education organization with campuses all over the world that teaches practical technology skills, including:
Software Engineering
UX Design
Data Science
Front-End Web-Development
Product Management
Data Analytics
General Assembly offers full-time, part-time, and online courses and also partners with businesses to upskill and re-skill their employees.
Flockjay
Like Prehired, Flockjay is a bootcamp for people who want to launch a career in software sales. Flockjay's bootcamp runs for 10 weeks and teaches skills ranging from sales techniques to software tools. Participants can choose to pay a discounted, upfront tuition of $5,000, or pay up to $9,000 through an ISA, which kicks in when graduates start earning over $40,000. Payments are made in small increments (10% of monthly income for 12 months).
AlwaysHired
Always Hired is a sales bootcamp for people who want to work as a sales development representative (SDR) at a SaaS (software as a service) company. Participants can choose between paying full tuition ($2,299) or being placed with a partner company.
Uvaro
Uvaro is a 12-week work-integrated learning program for technology sales that offers internship opportunities with partner tech companies. After graduation, participants receive ongoing access to coaching and jobs that don't get advertised. Uvaro offers an ISA tuition option equivalent to 10% of your base salary for 24 months after being hired full-time.
2. Do an Apprenticeship to Learn a Skill On the Job
Apprenticeships are a great way to learn because they allow you to receive on-the-job training while earning an income. Since January 2017, more than 800,000 Americans have found employment opportunities through apprenticeship programs, and there are currently nearly 25,000 registered apprenticeship programs in the US. According to the US Department of Labor, more than 90 percent of people who completed an apprenticeship earn an average of at least $70,000, and more than 94 percent of workers who completed an apprenticeship are still employed six months later.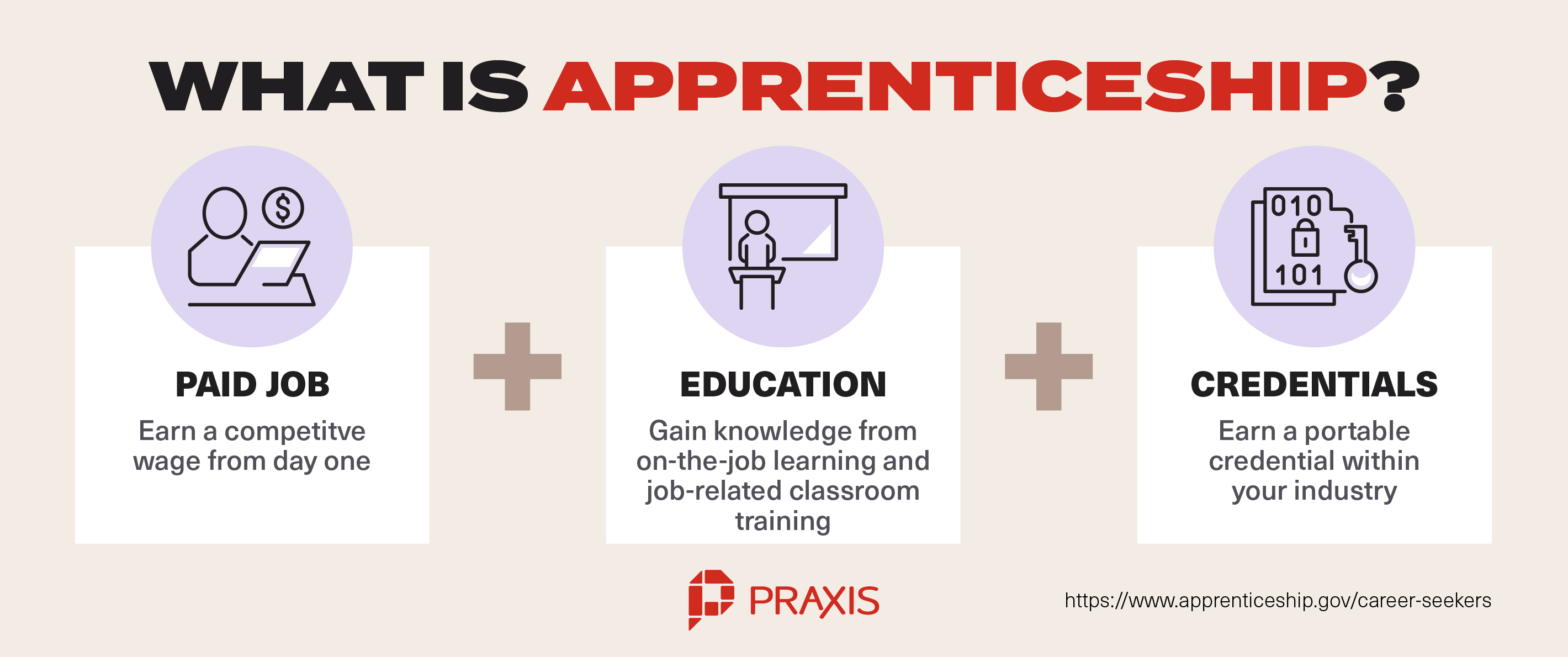 You might associate apprenticeships with trades jobs like welders, plumber, or electricians, but these are far from being the only fields that offer apprenticeships. Below, we've rounded up a collection of apprenticeship opportunities, but keep in mind that these are only a few and there are many others available.
Vendition
Vendition is a comprehensive sales apprenticeship program that helps you land a sales job, trains you, and not only doesn't charge you tuition but pays you $7500 to participate. Apprentices receive assistance in landing a sales job at a SaaS company (resume and cover letter prep, mock interviews, software tools training, and career planning) as well as ongoing mentorship and hands-on coaching and training. Participants receive $2,500 per month during their 3-month training period and the average Vendition apprentice earns $82,000 per year.
CyberDefenses Apprenticeship
The CyberDefenses Apprenticeship Program is an intensive nine-month paid training program that provides hands-on training, certification, and placement as a Tier 1 security operations center analyst within its cybersecurity services business. Apprentices need not have prior IT or security experience and receive instruction and mentoring from industry-leading cybersecurity experts to become subject matter experts and full-time team members with a salary and benefits.
IBM Apprenticeship Program
The IBM Apprenticeship Program is a 12-month program that allows participants to learn new technical skills while getting paid. The apprenticeship is an intensive on-the-job skills development program that offers hands-on training and mentorship with your long-term professional career in mind.
Julliard Apprentice Program
If you're interested in a career in theatre, Juilliard's Professional Apprentice Program in Technical Theater and Arts Administration may be a good choice for you. This is a paid training program in New York City that follows the academic year (August-May). Apprentices are paid an hourly rate and gain hands-on experience working with professional artists, technicians, and administrators in a vibrant, diverse, and welcoming community.
LaunchCode Technical Skills Apprenticeship
LaunchCode matches job seekers with technical backgrounds with employers who are experiencing talent shortages. Successful applicants embark on full-time paid apprenticeships, working as part of a team of experienced software developers and improving their skills on the job. Participants are paired with an experienced mentor who invests in their growth and helps them to reach their full potential.
Mercedes-Benz Technician Training & Development Program
The Mercedes-Benz DRIVE Technician Training and Development Program is a 16-week apprenticeship that trains participants to become qualified Mercedes-Benz automotive service technicians. The program takes place in state-of-the-art training facilities and instruction consists of approximately 10% academic lectures and 90% workshop instruction. The initial 16-week apprenticeship is followed by 12 months of full-time on-the-job training as a Mercedes-Benz dealership employee.
Microsoft Leap Apprenticeship Program
Microsoft's Leap Apprenticeship Program is an immersive 16-week training program that combines in-classroom learning with hands-on engineering projects. Applicants need to have previously graduated from a project or program management bootcamp or coding academy and should have at least 6 months of professional software development or project management experience. Leap applicants select a focus area before applying and can choose one of the following "pathways": User Experience Designer, Software Engineer, Software Support Engineer, Technical Program Manager, Customer Service Engineer, Business Program Manager.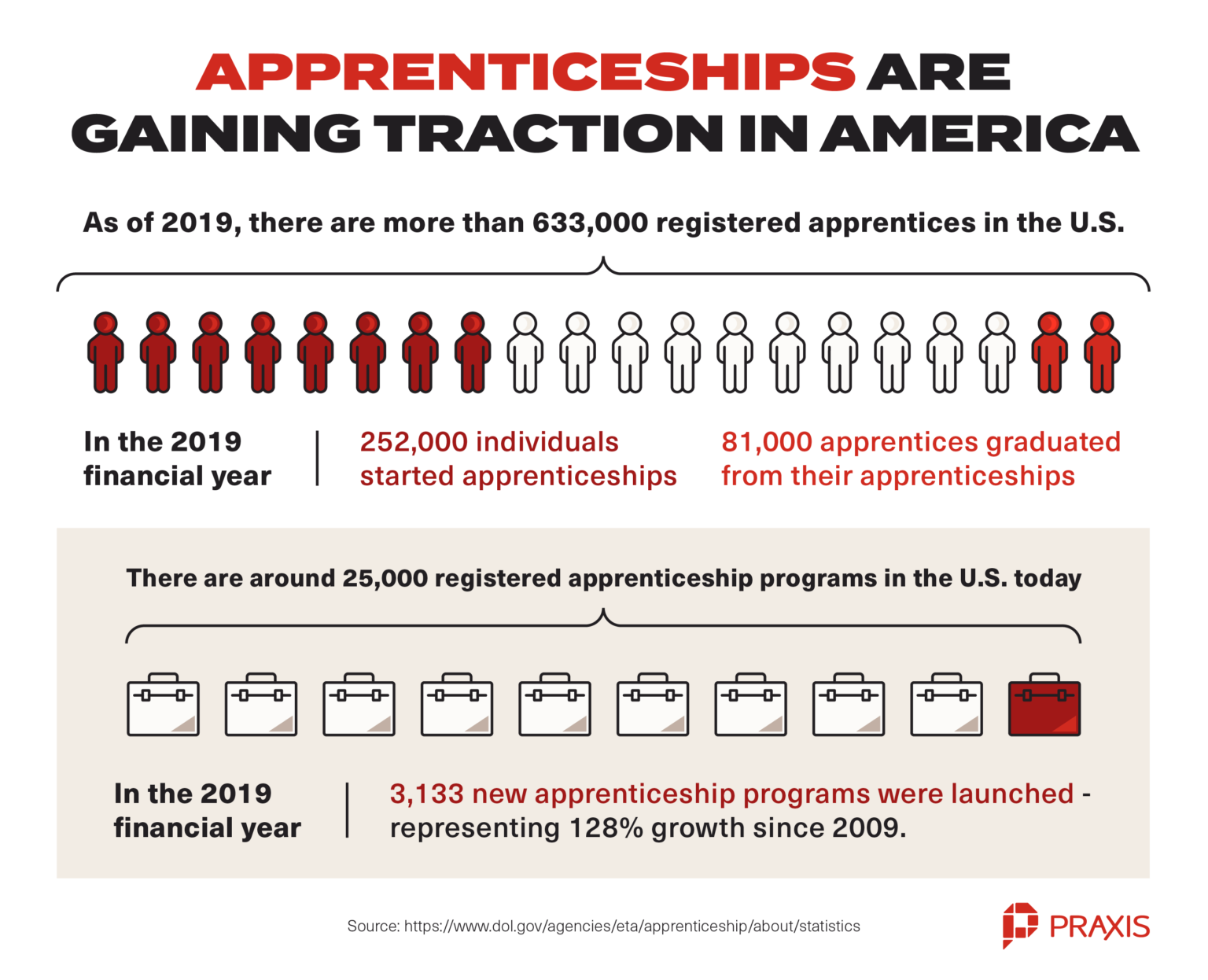 Walgreens University Career Development Program
Walgreens offers its employees a variety of paid apprenticeship programs through its Walgreens University career development initiative. Alongside its Business and Leadership programs, Walgreens University offers a Pharmacy Technician Training Program that gives participants an entry point into a career in healthcare as a certified pharmacy technician. Walgreens assists employees through review classes, study materials, and even sponsors the cost of their exam.
3. Learn to Code
Ever dreamed of learning to code? If so, why not make your dream a reality? Coding is a highly sought-after skill that offers excellent earning potential – and demand for skilled developers is expected to rise.
There are currently more than 23 million coders in the world, and experts predict that this number will grow to near 28 million within the next five years. This high demand pushes up developer incomes, making it an attractive career path. According to a Burning Glass analysis of job market demand for skills, jobs that require coding skills pay on average $22,000 more than jobs that don't.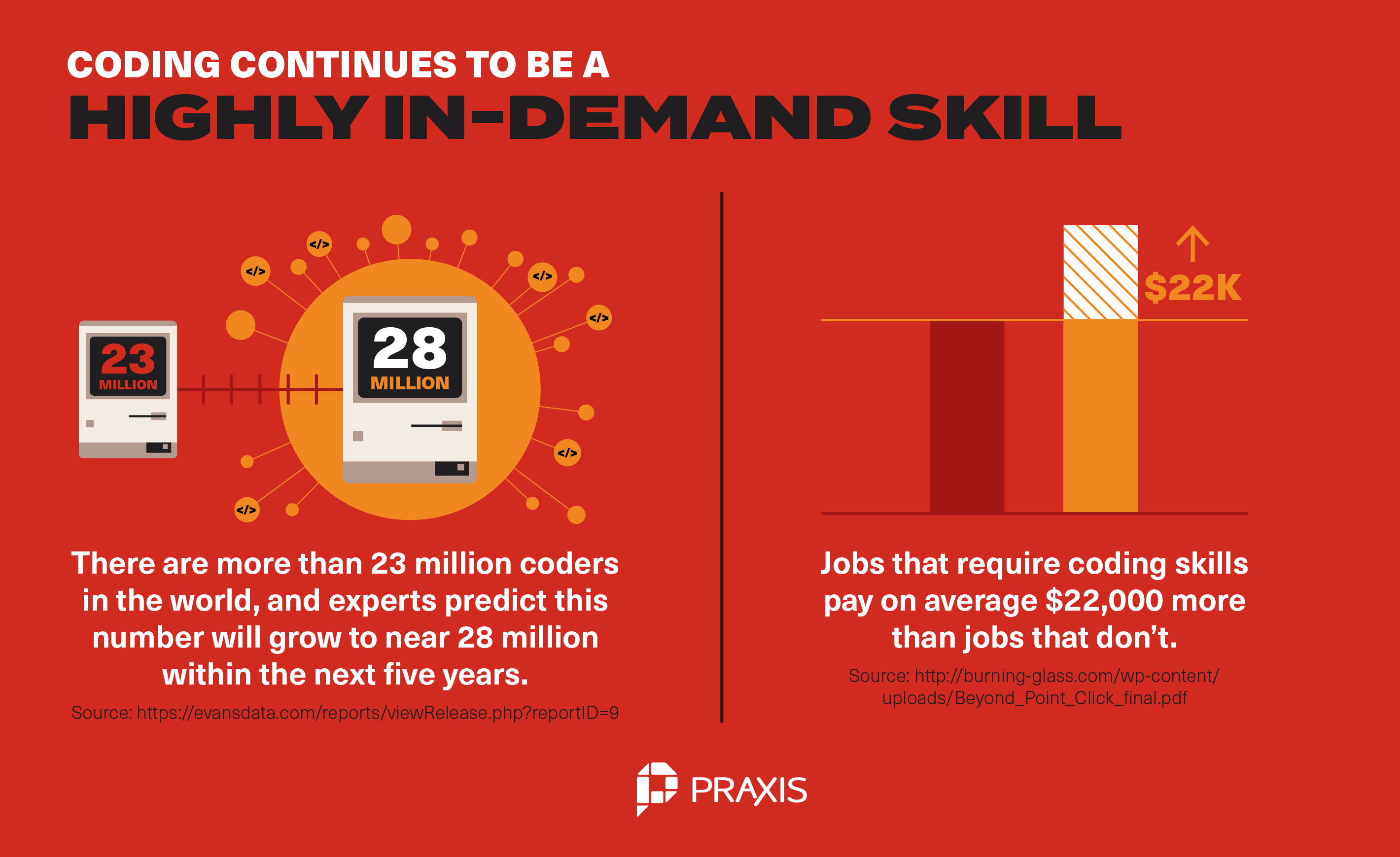 Below, we've rounded up some of the top coding schools and bootcamps in the country.
Codecademy
Codecademy is an interactive online platform that offers completely free coding education in 12 programming languages including Java, Ruby, Python, Swift, Go, SQL, C#, C++, Sass, and markup languages HTML and CSS. Participants receive assistance selecting a path to focus on, learn by doing, and receive instant feedback on their code. Paths include Computer Science, Data Science, and Web Development, and there are also specialized skill paths that focus on shorter-term goals. Codecademy also offers a Pro membership that gives members access to additional resources, real-world projects, and certifications.
Flatiron School
The Flatiron School offers online and on-campus training that equips participants to launch a career in tech as a data scientist, full-stack developer, cybersecurity analyst, or cybersecurity engineer. Programs vary in length depending on which path is selected, and the school offers comprehensive career services to help graduates land attractive positions at established technology companies. Flatiron graduates find fulfilling careers with leading technology companies including Apple, Google, Black Rock – and even NASA! Flatiron uses an income share agreement (10% of gross monthly income for 48 months) to allow participants to defer payment until they are earning.
Fullstack Academy
Fullstack Academy is an intensive coding bootcamp that offers part-time and full-time coding classes both online and through its New York and Chicago campuses. Each Fullstack coding or cybersecurity bootcamp has three phases: Foundations (off-campus), Junior Phase (on-campus), and Senior Phase (on-campus). Fullstack participants build up a portfolio of projects and code on Github, which serves future employers as an excellent signal of their coding ability. Students pay a $2,000 enrollment deposit and full tuition depends on whether the participant is enrolled in a part-time or full-time bootcamp, amounting to $15,980-$17,910.
Lambda School
The Lambda School offers fully-online training that equips participants to embark on careers as full-stack developers or data scientists. Full-time courses take 6 months to complete, while part-time courses take 12 months, and participants don't need a prior formal education to enroll. Participants remotely attend live lectures presented by industry experts and participate in real projects that allow them to learn in a hands-on environment and build their portfolio. Participants only pay tuition after reaching an annual income of at least $50,000, and the school's career coaches help participants to land jobs at leading technology companies.
freeCodeCamp
freeCodeCamp is a non-profit organization that offers free online courses, programming projects, a community forum, chat rooms, and other resources such as interview preparation assistance for developer jobs to make web development accessible to anyone. Participants earn verified certifications in a wide variety of coding skills and graduates have gone on to work for leading technology companies including Google, Apple, Microsoft, Amazon, and Spotify.
If you're interested in learning to code and want more information about coding education opportunities, also check out Career Karma — an app, resource, and community to help you discover the best coding bootcamp for you.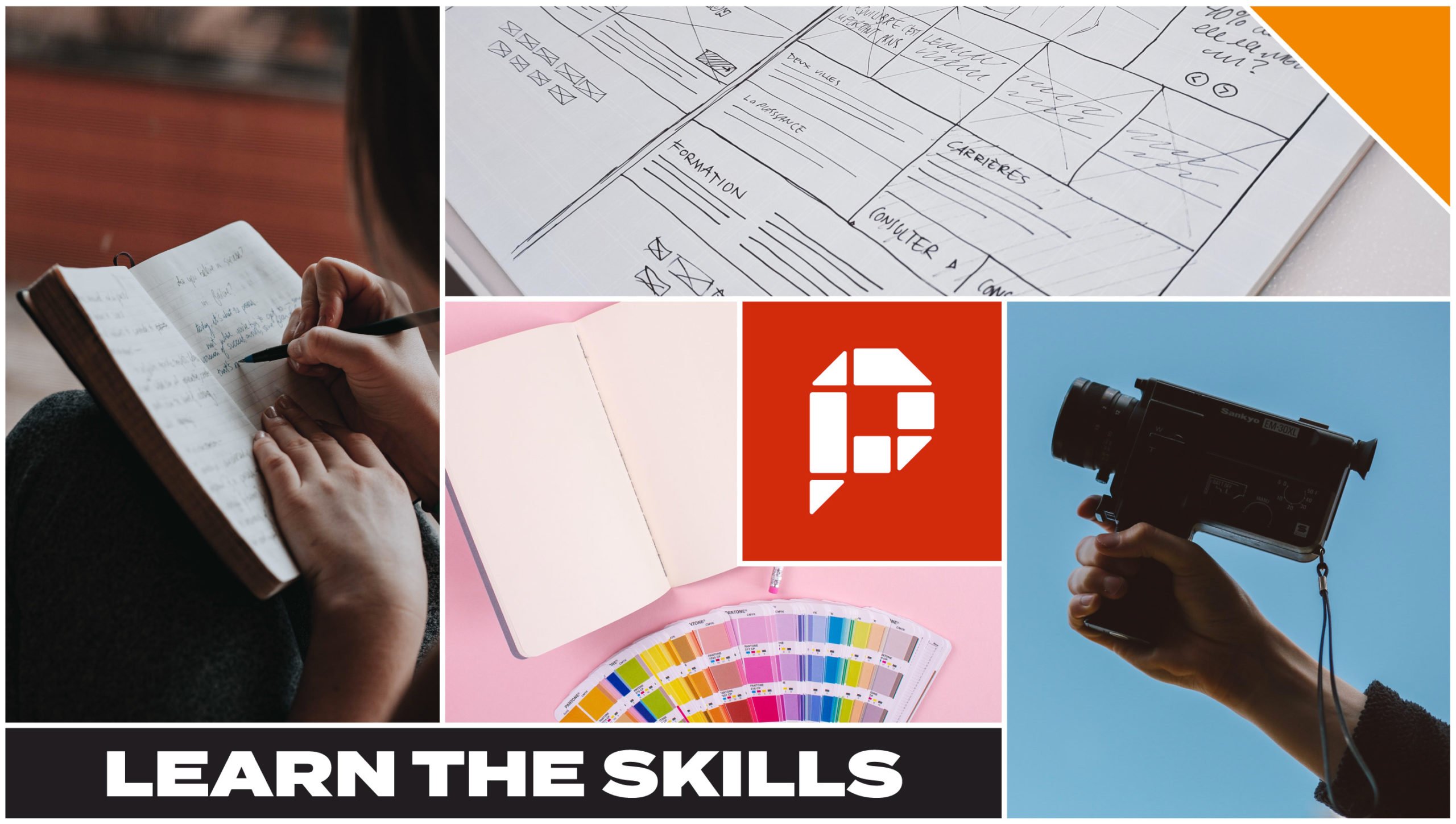 4. Learn the Skills to Follow a Creative Career Path
If you're a creative person and you'd like to gain the skills to embark on a career that allows you to use your creative talents to make money, check out the training opportunities below.
Design
There are many different courses available to learn design skills without going to college. Here are some of our top picks:
The Graphic Design School
The Graphic Design School offers a variety of online design courses that teach you the skills you need to succeed as a graphic or web designer. These include its intensive foundation course (from $3,500), CUA40715 Certificate IV in Design (from $4,290), Web Design Course (from $695), and Design@Work Course (from $1,500).
Coursera
California Institute of the Arts' Graphic Design Specialization through Coursera is a fully-online course for beginners. The course takes approximately 6 months to complete (at 3 hours per week) although students can complete it at their own pace, and includes a shareable certificate. Participants pay the Coursera subscription fee (typically $30-$80 per month) if they want the certificate but can participate free of charge if they don't require the certificate.
Udemy
The Udemy Graphic Design Masterclass, which covers Photoshop, Illustrator, InDesign, design theory, branding, and logo design. Participants in this course should have access to Adobe Photoshop, Illustrator & InDesign (or Affinity Designer, Affinity Photo, Affinity Publisher). Students learn at their own pace with 19 hours of on-demand video and more than 35 downloadable resources.
Canva Design School
User-friendly design platform Canva recently launched the Canva Design School, which hosts a variety of free design courses and tutorials
CareerFoundry
CareerFoundry offers a range of design courses with the guarantee that if you don't find a job within 6 months of completion, you'll get your money back. Courses include UX Design (10 months, from $6,555), UI Design (9 months, from $6,555), and more. All courses are fully-online and include mentorship and career support.
CreativeLive
CreativeLive offers a wide array of creative courses including Art & Design courses. Students can purchase access to individual courses or unlock more than 1,500 courses for life with the Creator Pass priced from $149.
Daily Logo Challenge
Daily Logo Challenge offers free prompts for daily design challenges – to help you level up your design chops in a self-directed manner. They also share their recommended best online design courses here.
Website Design
If you think you need to be able to code to build websites, you're mistaken. Thanks to content management systems like WordPress and Wix – and drag-and-drop page builders like Elementor – it's fairly easy to build professional websites that are responsive (adjust to any device) right out the box.
Here are some resources to help you learn how:
Wix
Wix is a website builder that allows users to build websites using a user-friendly drag-and-drop function. It also has a lot of comprehensive resources to help beginners get started, such as its Step-by-Step Guide: How to Build a Website from Scratch.
YouTube
YouTube is full of excellent tutorials to help you start building professional-grade websites in no time at all. My personal favorite channel for this is Tyler Moore, who has made a number of detailed step-by-step breakdowns to help beginners build awesome websites using Elementor, including How To Make a WordPress Website – In 24 Easy Steps and How To Make a WordPress Website – 2020. Tyler has also made a collection of super helpful website section templates available on his website.
HubSpot Academy
HubSpot is an absolute Mecca for digital content creators and marketers (we'll talk about them in more detail in the section on Digital Marketing below). Check out their comprehensive free course on how to build websites using Elementor.
Skillshare
Skillshare is an online learning community that combines video tutorials with interactive, project-based learning in a subscription-based model. Skillshare is a great way to form connections with a community of like-minded individuals and an excellent opportunity to learn out loud and ask experts in your field for advice. Among the many courses available, check out the various courses on using Elementor for web design.
Cinematography/Videography
As video content grows ever more prominent as a medium for marketing, the demand for skilled video creators grows. Being able to plan, shoot, and edit high-quality video content will serve you well. Below, we've included our top picks for video skills courses.
Udemy
Udemy offers a number of excellent (and very affordable) video production courses, including:
And many more.
YouTube
Pluralsight
Pluralsight facilitates online education through video training courses for creative professionals, software developers, and IT administrators. Among its video editing skills courses are in-depth tutorials teaching everything from using Adobe products for video and audio production to getting started with Camtasia, to DSLR video production, to using various editing software to get the best results.
HubSpot Academy
We've mentioned HubSpot before, and we'll discuss them in more detail below, because they truly offer a lot of great online educational resources. For now, check out The Beginner's Guide to Editing YouTube Videos.
Photography
Do you have a passion for photography that you want to make your career? Or maybe you look at pro photographers' shots on Instagram and think "I want to do that!" If so, check out the resources we've rounded up below:
The Digital Photography School
The Digital Photography School offers daily tips, resources, and free tutorials to help you get the most out of your camera. The Digital Photography School site hosts a ton of user-created content like helpful blogs full of tips to make you a better photographer and photo editor, as well as a huge range of short online digital photography courses.
Pixpa
Pixpa is an all-in-one platform for photographers where creators can host their portfolio, sell products through a built-in e-commerce function, and build their audience through photo blogs. Check out this awesome roundup of the 25 best photography workshops around the world by Anisha Singh.
CreativeLive
CreativeLive offers a wide array of creative courses including Photo & Video courses. Students can purchase access to individual courses or unlock more than 1,500 courses for life with the Creator Pass priced from $149.
Expert Photography
Expert Photography is an online learning platform dedicated to photography. It offers a huge collection of detailed free guides as well as courses by pro photographers. Check out their in-depth introductory post, Photography for Beginners (The Ultimate Guide in 2020).
Udemy
Udemy offers a number of excellent (and very affordable) photography courses, including:
And many more.
5. Become a Digital Marketer
Digital marketing is an exciting career path with many job opportunities. As more and more businesses realize the importance of having an online presence, the need for skilled digital marketing professionals grows.
The barrier to entry is low, with some 89 percent of digital marketing professionals saying that you don't need a degree to get a job in digital marketing, according to a recent Databox survey.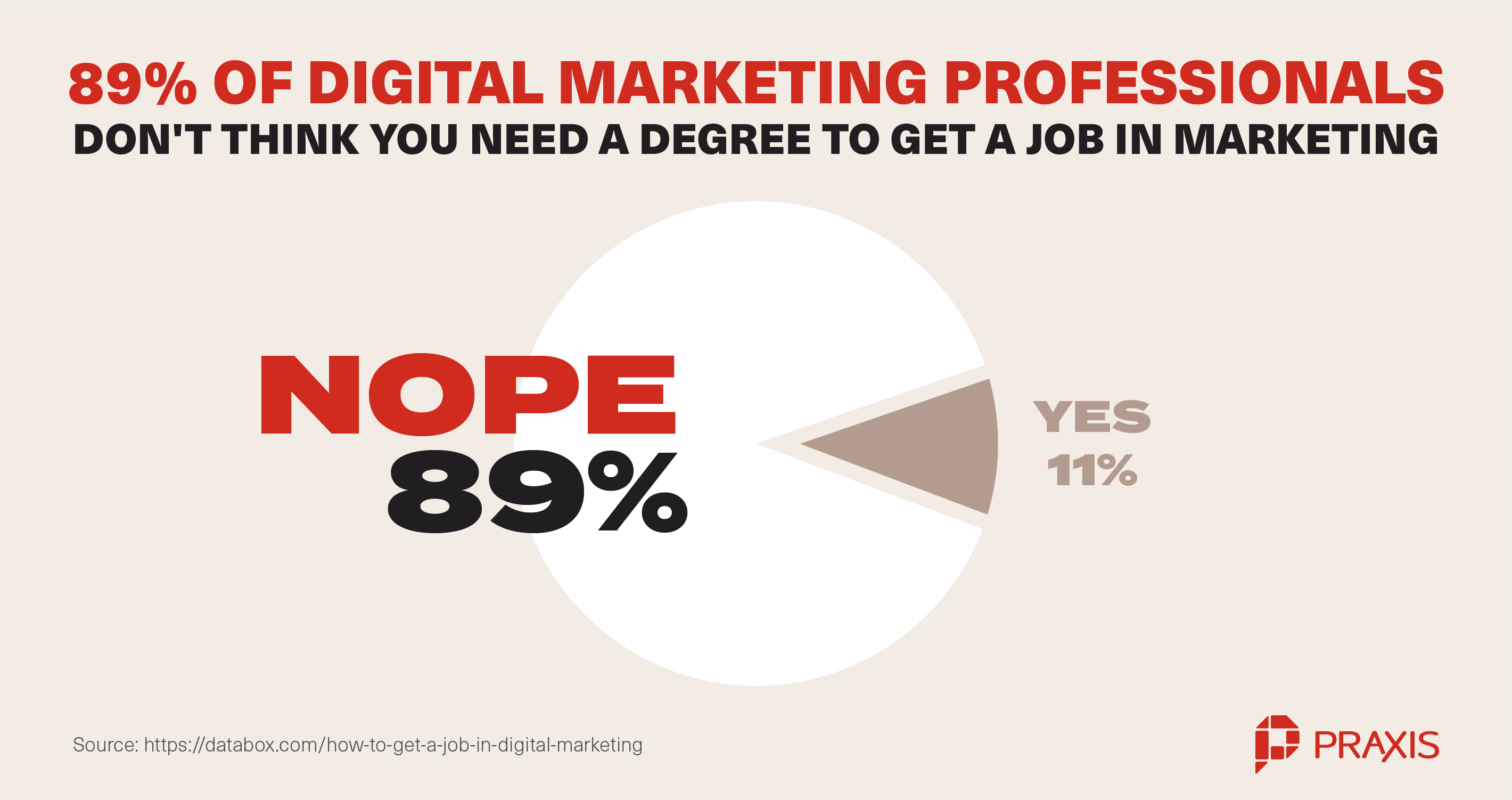 Below, we've rounded up some of the leading digital marketing learning opportunities available today.
Ahrefs Academy
If you're looking to learn about search engine optimization, the Ahrefs blog is an excellent place to start. Ahrefs is one of the leading tools for keyword research and the Ahrefs Academy offers free in-depth courses that teach you how to use their tools to maximize your SEO outcomes, including Marketing with Ahrefs and Blogging for Business.
HubSpot Academy
We've mentioned HubSpot before, with good reason. In addition to being an industry-leading platform with tools for marketing, sales, customer service, and customer relationship management, Hubspot also provides comprehensive learning resources through the HubSpot Academy which offers educational materials ranging from quick, practical courses to comprehensive certifications. HubSpot also has a wide range of helpful blogs, in-depth ebooks, and other resources.
Digital Marketing Institute
The Digital Marketing Institute is an online resource that offers exclusive access to practical digital marketing news, forums, tools, templates, courses, webinars, and other content. It's a community of more than 120,000 members and offers a globally recognized certification in digital marketing held by more than 25,000 marketing professionals. Basic membership is free, and a Power Membership costs $23 per month or $175 per year. Courses include certifications, diplomas, and graduate degrees.
The Content Marketing Institute
Facebook Blueprint
Facebook Blueprint is Facebook's learning platform for marketing skills While it's primarily focused on Facebook and Instagram, it's a solid well-rounded introduction to the world of social media marketing and commerce.
Google Skillshop
You can also learn how to use Google's suite of marketing tools directly from the mothership through Google Skillshop, which offers certifications in:
For more information on getting into digital marketing, check out our blogs, Marketing Career Path: Here's How to Get into Marketing and How to Get Started in Digital Marketing.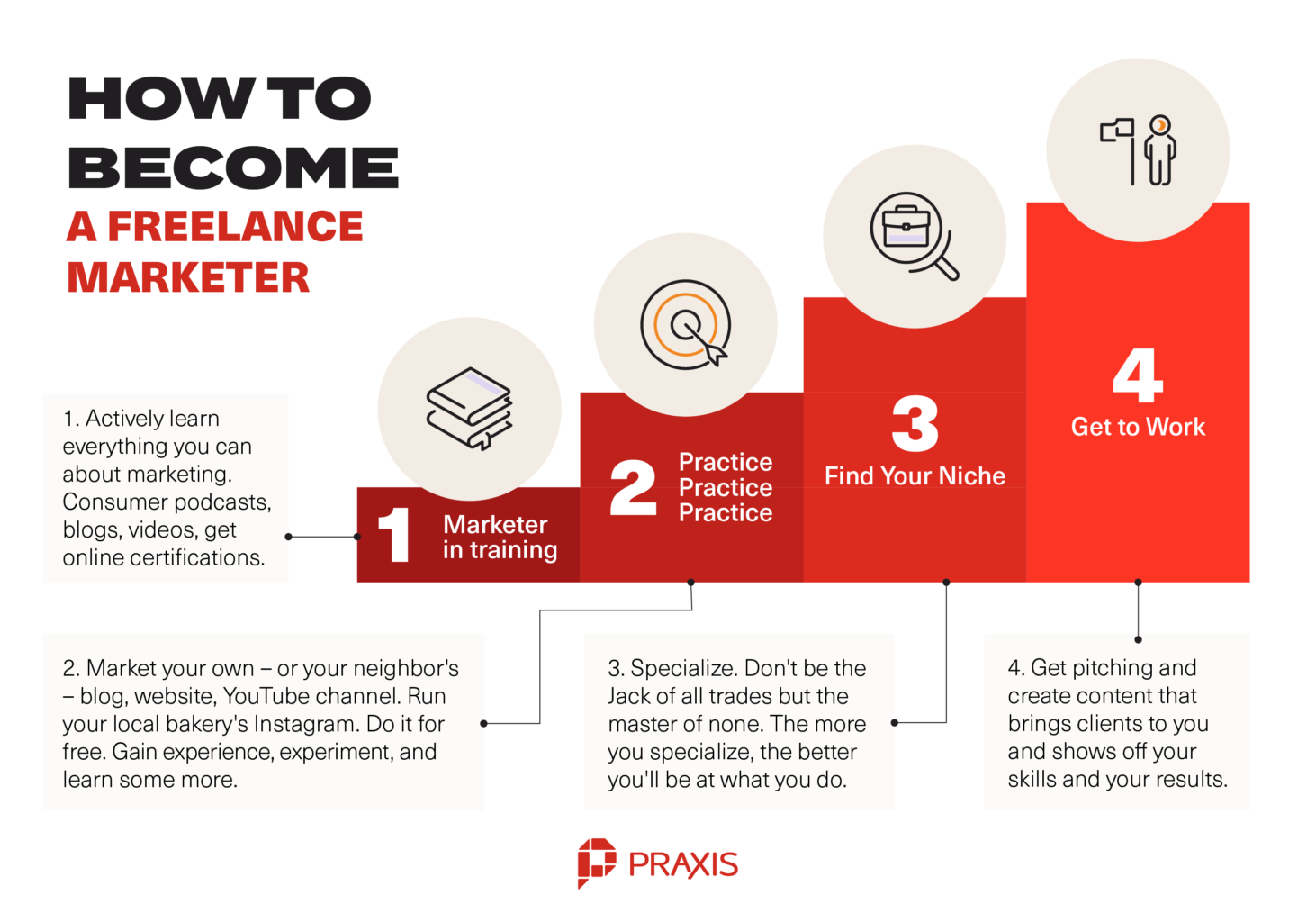 6. Learn a Trade or Craft
If you're good with your hands, have strong attention to detail, and hate the idea of sitting behind a desk 8 hours a day, why not consider learning a trade?
CreativeLive
CreativeLive offers a wide array of creative courses including Craft & Maker courses. Students can purchase access to individual courses or unlock more than 1,500 courses for life with the Creator Pass priced from $149.
Instructables
Instructables is a platform where you can access detailed, step-by-step how-to guides for all sorts of user-created do-it-yourself projects ranging from arts and crafts to DIY furniture, solar power projects, van conversions, to electrical automation projects using Raspberry Pi and Arduino.
Woodworking for Mere Mortals
If you're interested in learning how to do woodwork, Steve Ramsey's Woodworking for Mere Mortals course is a great place to start. It teaches you the fundamentals of woodwork, which tools you need (and don't need) in your workshop, and includes a variety of projects you can use to practice your woodworking skills.
Alison.com
Alison.com is a free online education platform that focuses on practical workplace skills and foundational knowledge. It offers a large selection of Free Online Skilled Trades Courses including a Diploma in Dog Grooming, Diploma in Electrical Studies, Maintaining and Servicing Home Appliances, Introduction to Plumbing, Diploma in Plumbing Studies, Introduction to Masonry Structures, and many more.
While these fully-online courses may not give you the hands-on experience you'll need to excel at these trades jobs, having this type of diploma will show prospective employers and apprentice programs that you take your trade career seriously and that you're a self-driven learner, which will make you a far more appealing candidate.
Trades Hub
Trades Hub is an online resource for finding jobs, training opportunities, and scholarships for trades jobs including welders, CNC machinists, automotive technicians, auto body technicians, electricians, HVAC technicians, carpenters, plumbers, and more. It's currently only focused on Minnesota-based opportunities.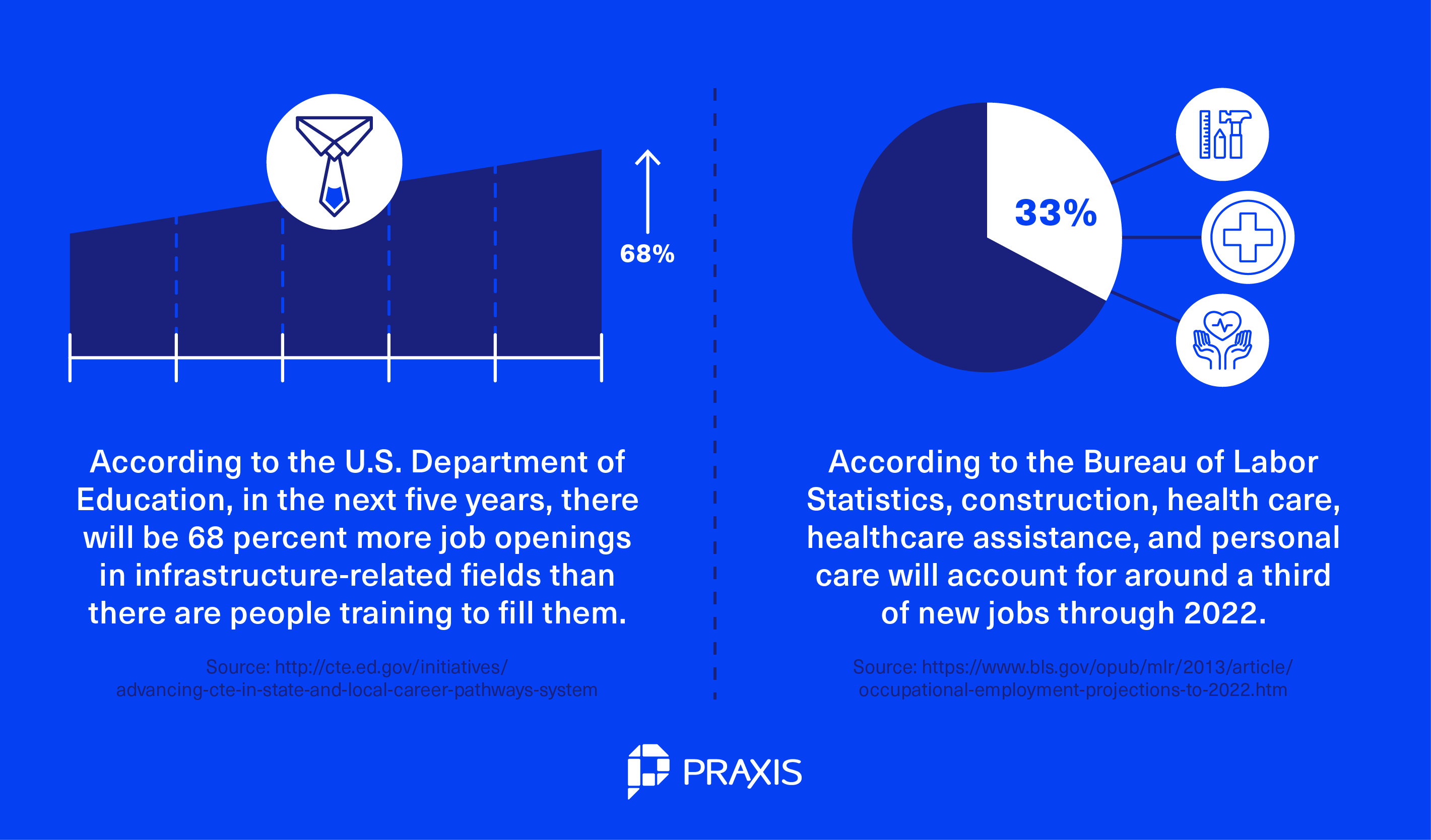 7. Make a Difference Through a Humanitarian Job
Have you dreamed about helping people and making a difference through humanitarian work? Whether you want to spend some time volunteering or to make a career out of helping people, the education resources listed below should set you on the right path.
Peace Operations Training Institute
The Peace Operations Training Institute offers a variety of self-paced e-learning courses to equip individuals with the skills they need to participate in humanitarian relief, United Nations peace support, logistics, and security operations. Many of the courses are free for all participants, while others cost around $60-$80.
HumanitarianTraining.com
HumanitarianTraining.com is an online education platform designed to make humanitarian education accessible to anyone with an internet connection, with a special focus on NGOs, aid agencies, and other humanitarian organizations. Course categories include Crisis Management, Environmental Management, International Development, Risk Management, Security, and Technology, and groups and forums around key topics facilitate greater learning through sharing with peers. Courses range from free (e.g. Climate Justice for the Next Generation by the Open University) to $750 (NGO Security Management Online by Evosec International).
Concern Worldwide
ConcernUSA.org is the USA branch of Concern Worldwide, a humanitarian organization that specializes in emergency response, health & nutrition, climate resilience, education, and livelihoods, working hand-in-hand with local communities to design practical solutions. Check out their comprehensive list of humanitarian training opportunities.
National NGO Program on Humanitarian Leadership
The National NGO Program on Humanitarian Leadership (NNPHL) aims to "prepare current and future generations of humanitarians to address today's most salient global challenges. NNPHL provides cutting-edge training to enhance humanitarian professionals' leadership skills and enable them to respond effectively in times of disaster, conflict, and crisis." Its online course is available free of cost to anyone, regardless of experience or affiliations.
Raptim Humanitarian Travel
Raptim Humanitarian Travel is a non-profit agency with offices around the world that makes the travel arrangements for volunteers, humanitarians, and NGOs to help where it's needed most. They've put together this helpful roundup of 10 training opportunities for humanitarian aid workers.
GoAbroad.com
GoAbroad.com is a resource for individuals who want to engage in "meaningful travel," whether it's through studying abroad, teaching in foreign countries, or joining volunteering programs. If you've dreamed of volunteering abroad while receiving a stipend, check out their collection of resources to help individuals find paid volunteer work abroad.
United Nations Volunteer Program
Through the United Nations Volunteer Program you can volunteer abroad, within your own country, or online. In order to apply, individuals need to create a profile in the UNV Global Talent Pool. once you've registered a profile, you may also be offered assignments directly based on your listed skills and match with the eligibility criteria.


8. Learn (Almost) Anything Online with These Online Education Platforms
These days, you can learn just about anything online. There are a multitude of education platforms and learning resources available at every price point – including free. Below, we've rounded up some of the top online learning platforms available.
Massive Open Online Courses (MOOCs)
MOOCs are open online courses that are designed to accommodate unlimited participation and make learning accessible to anyone with an internet connection. There are MOOCs on just about any topic you can imagine, made available through a number of education platforms including, edX, Coursera, Udacity, FutureLearn, and many more.
MOOC.org
MOOC.org is an extension of edX, a leading platform for online courses. Users can participate for free by auditing courses but pay a tuition fee when they want a certificate to add to their resume.
LinkedIn Learning
LinkedIn Learning is a MOOC platform that hosts more than 16,000 free and paid online video courses for a broad range of business, creative, and technical skills, taught by industry experts.
Coursera
Coursera is a MOOC provider featuring courses by more than 200 leading universities and companies. Coursera offers over 3,900 courses and specializations, 20+ degrees and MasterTrack Certificates, and 13+ Professional Certificates. Guided Projects and Courses are free, while Specializations and Professional Certificates cost $39 per month, MasterTrack Certificates start at $2,000, and Degrees start at $9,000.
MOOC List
MOOC List is a platform that consolidates MOOCs from online education platforms including Coursera, edX, FutureLearn, Udacity, and a number of other platforms and universities. MOOC List allows users to search for courses using various filters to find MOOCs that best meet their criteria.
Udemy
Udemy is a self-paced online learning platform that hosts more than 130,000 video-based courses, with new additions being added every month. Courses range in price but tend to be very affordable, with frequent discount sales. Course categories include design, development, marketing, IT & software, personal development, finance, business, photography, music, and much more. By the way, if you have a skill you think others want to learn, Udemy offers resources that help you create and host (and sell!) courses through its platform.
The Great Courses
The Great Courses is an e-learning platform offering individually-priced, college-level audio and video courses on a huge variety of topics. Unlike many other online education platforms, The Great Courses produces its courses itself, hiring subject matter experts to produce top-quality learning materials. The Great Courses also offers an on-demand streaming subscription model called The Great Courses Plus that gives users a more seamless and ad-free learning experience.
Skillshare
Skillshare an online learning community that hosts a multitude of (unaccredited) courses under a subscription-based model. Most of the courses are heavily interaction-based, encouraging students to share their work and give each other feedback. Skillshare has an ad-supported free membership, a Premium membership (at $19 per month or $99 per year), and Teams accounts for workplace education initiatives.
MasterClass
MasterClass offers incredibly high production-quality video classes in which celebrity instructors who are at the top of their respective fields share their insider tips. Learn how to cook from top chefs, how to take breathtaking photos from celebrated photographers, how to write from best-selling authors, and much more. There are two subscription offers available: a single-class pass at $90 or an all-access pass for $180, allowing you to watch the full catalog of courses on-demand on any device.
Kahn Academy
Kahn Academy is a non-profit organization that provides a free, world-class online education in K-12 subjects. If you're still in school and need help studying for your exams or additional math tutoring, Khan Academy is an excellent free resource. Dropped out of school but suddenly discovered a burning interest in physics? Catch up on the basics through Kahn Academy. Note that Kahn Academy doesn't offer certifications, so this is not a way to get a GED if you don't have one, but it's a great way to fill the gaps in your knowledge and prep for examinations.
9. Kickstart Your Business with Entrepreneurship Accelerators and Business Coaching
Do you have a great business idea but need help getting your idea off the ground? Good news! There are many entrepreneurship accelerators and business coaches available to help you master the art of business without a business degree. Below, we've listed a selection of resources to help you find the solution best suited to you.
Accelerators & Incubators
Startup accelerators (also known as Seed accelerators) and incubators are intensive collaborative programs designed to help early-stage companies grow by providing resources including mentoring, training, financing, and workspace. These highly immersive programs typically condense years of learning into the space of a few months, and many of these programs culminate in a pitch event or demo day.
Here's a list of some of the top startup accelerators and incubators:
Business Coaching Services
If an accelerator isn't your cup of tea and you prefer one-on-one business mentoring to help you grow your business, you might consider engaging the services of a business coach. Below, we've rounded up some top directories to help you find a coach that's the right fit for you.
Coach.me
Coach.me is an online platform where you can browse listed professionals to find the right coach for your needs. Whether you need a business coach, sales coach, life coach, habit coach, fitness or diet coach, productivity coach, or writing coach, you're likely to find what you're looking for on Coach.me's directory. The platform also offers a handy habit tracker tool.
The Leadership & Sales Academy
Leadership & Sales Academy offers seminars, coaching, consulting, and training for sales, sales management, and customer service excellence. Whether you're looking to up your sales game for your entrepreneurial venture or want to become a high-powered sales exec, the Leadership & Sales Academy's qualified coaches can help you reach your goals.
Small Business Coach Associates
Small Business Coach Associates offers coaching for entrepreneurs who need guidance on how to start a business, grow their business, and train their employees. Clients receive access to small business best practices, strategies, and tactics to handle day-to-day challenges like competition, cash flow, and employee management.
Noomi
Noomii is a massive directory of career, life, business, and executive coaches with resources in 52 countries around the world. Whatever your coaching needs, Noomi can help you find what you're looking for.
For more business coaching resources, check out HubSpot's list of business coaching services.
10. Earn a Living Through Adventure, Travel & Tourism
Do you want to make a living through travel? It's entirely possible, which is why we've rounded up some of the coolest training opportunities you can take advantage of to build a career in travel, adventure, and tourism.
Learn to Skydive and Become a Skydiving Instructor
If you're interested in becoming a skydiving instructor, check out the Professional Skydiver Certification from Skydive University in DeLand, Florida. Whether you're a total novice or want to refine and improve your skills in canopy, freeflying, formation, wingsuit flying, or instruction (one-on-one and group), Skydive University offers a variety of specialized classes and certifications.·
Become a Certified Diving Instructor
Rainbow Reef IDC
Rainbow Reef IDC's highly-decorated IDC staff teaches over 50 PADI Specialty Instructor Courses in Key Largo, just south of Miami. Diving instructor development courses include PADI DiveMaster, Open Water Scuba Instructor, Emergency First Responder Instructor, PADI Instructor Development Course (IDC), Resort Operations Specialty, Rescue Diver, PADI Assistant Instructor, and many more. The dive center can also facilitate job placements around the world through its well-established network of clients, students, and dive professionals.
Freedom Scuba
Freedom Scuba is a leading diving company located in Syracuse, NY. Freedom Cuba offers a wide range of scuba courses including PADI Discover Scuba, PADI Open Water Diver, PADI Advanced Open Water Diver, PADI Rescue Diver, PADI Master Diver, PADI DiveMaster, and various other diving courses. Prices range from $50 to $675 per course.
Become a Commercial Diver
Commercial diving can be a highly lucrative career with international work opportunities in underwater construction (such as welding), inspection, repair and maintenance, salvage and recovery, and more. Commercial divers need specialist training, so if you're interested in learning more, check out the commercial diving training facilities below:
Learn to Sail
If you have a thirst for adventure and a love for the sea, why not learn to sail? There are a lot of opportunities to work as salaried crew on sailboats, work as part of a (or start your own) yacht delivery crew, or simply hitchhike across the seven seas in exchange for lending a helping hand.
The American Sailing Association
The American Sailing Association (ASA) offers sailing classes featuring a proven curriculum and taught by seasoned professionals to get you out on the water in no time, sailing safely and confidently. With more than 400 locations globally, the ASA is the world's largest association of sailing schools.
US Sailing
US Sailing is the national governing body for sailing in the US. It aims to "increase sailing participation and excellence through education, competition, and equal opportunity while upholding the principles of fair play, sportsmanship, and safety." Its website offers a comprehensive directory of accredited sailing schools.
NauticEd
NauticEd allows aspiring sailors to learn sailing theory online and keep their logbook on the cloud. Its site also has awesome roundups of sailing schools, sailing courses, sailing vacations, and sailing opportunities around the world.
Yachting Education
Yachting Education in Hallandale Beach, Florida is a leading USA-based Royal Yachting Academy training center – and the only center offering luxury cruising catamarans as training vessels. Courses on offer include Start Yachting, Competent Crew, Day Skipper, Coastal Skipper, International Certificate of Competency.
Once you know your way around a boat, check out Crewfinders and Crewseekers to find paid work. Some boats are happy to swap experience for enthusiasm, and it's entirely possible to learn to sail without ever spending a cent on lessons. That said, most paying crew positions will require some kind of proof that you know what you're doing.
Train to Become a Tour Guide
If you love traveling and working with people, why not combine these two passions and train to become a certified tour guide?
TripSchool
TripSchool offers tour guide training and tour director certification both online and in-person. TripSchool facilitates intensive destination training programs, storytelling training, technology classes, and even allows participants to create profiles in their tour company database to help them land tour guide jobs around the world. Sound good? Check out TripSchool's Tour Director & Tour Guide Certification Course
International Tour Management Institute (ITMI)
Whether you're interested in hosting food & wine tours, cultural tours, student travel, adventure tours, faith-based tours, or any other type – full-time, part-time, or seasonally, ITMI's Tour Training's 8-week Tour Certification Program will equip you with the skills and confidence to launch your dream career as a tour guide. ITMI has a huge partner network of travel companies and offers a robust career launchpad program as part of the course to help you land your first gig as a tour guide.
Become a Travel Blogger or Vlogger
Have you ever dreamed of traveling full-time and earning a living through travel blogging or vlogging? If so, why not learn from the best? Below, we've rounded up some of the most successful travel bloggers and vloggers and the resources they've created to help others create the same lifestyle.
Nomadic Matt
Nomadic Matt (AKA Matthew Kepnes) is a travel blogger and New York Times bestselling author who focuses primarily on the budget travel and "travel hacking" niche. His writing has appeared in the New York Times, CNN, National Geographic, Huffington Post, The Wall Street Journal, the BBC, and others. Check out his blog on how to become a successful travel blogger or sign up for his Superstar Blogging mentorship program.
Be My Travel Muse
Be My Travel Muse is a travel blog and vlog by Kristin Addis, a top blogger in the solo female traveler niche. She's put together several helpful resources to help newbie travel bloggers find their feet, including this post to help you identify which travel blogging courses are worth your time (and money), this collection of tips on how to monetize your travel blog, and group and private coaching programs for emerging bloggers.
Goats On The Road
Goats On The Road is a travel blog with a focus on earning money while on the road. Bloggers Nick and Dariece have been traveling full-time since 2008 and share their experiences around travel jobs and earning a travel-supporting living while embracing a nomadic lifestyle. Check out their Beginner Blogger course to help you get started.
The Nomadic Movement
The Nomadic Movement is a popular YouTube channel by a couple living and traveling in a converted school bus. If you're an aspiring YouTuber travel vlogger, check out their course, Learn to Create Videos You Love.
Get a Job on a Cruise Ship
The cruise ship industry may have taken a hit as a result of COVID, but with vaccines rolling out, it's only a matter of time before it bounces back. Check out the resources below if you're interested in starting a career aboard cruise ships:
Why Not Teach Abroad?
Teaching English abroad is a great way to see the world while earning money. In many countries, being a native English speaker is enough to get your foot in the door and receive on-campus teacher training, while others may require a TEFL or CELTA certification. Below, we've included more information on both of these courses.
Teaching English as a Foreign Language (TEFL) Certification
TEFL is an internationally-recognized English teaching certification that opens doors to teach in countries around the world ranging from South Korea to Spain – as well as online. No prior teaching experience or tertiary education is needed to become TEFL certified. Students can study online using the popular 120-hour Premier TEFL course or English-government regulated Level 5 TEFL course, or receive in-person training at a long list of facilities around the world.
Certificate in English Language Teaching to Adults (CELTA)
CELTA is an English teaching certificate accredited by the University of Cambridge and is one of the most widely accepted Teaching English to Speakers of Other Languages (TESOL) certificates in the world, qualifying teachers for jobs within most of Europe as well as the USA. Take the CELTA Eligibility Test to find out whether you qualify.

Self-Directed Learning Puts You In the Driver's Seat
None of the education options listed above cost $160K. In fact, you could combine ten or even twenty of these learning opportunities and still not hit a total of $160K.
Isn't that awesome? That means that if you don't have $160K lying around – which, let's face it, who does? – you save money and avoid debt. And, in the rare event that you do, you can create your own curriculum, learn about what you're truly interested in, invest the rest, or start your own business.
If you're feeling a little overwhelmed by all these options and you're not sure where to start, Praxis can help.
We'll help you discover what constitutes meaningful work for you, identify your priorities, and set goals to set yourself on the path to creating a career you love.
For more tips on how to make the most of your self-directed education and to find out more about career options that don't require college, check out our blog, The Best Alternatives to College for 2021 and Beyond as well as our program guide, and reach out if you have any questions at all.
Did we miss something? If you're looking for training resources on a specific career that you'd like us to include – or you think your training program would add value to our readers – let us know and we'll add it to this list.