Praxis is not a job placement company. While 96% of graduates receive a full time job offer upon completion of the program, the apprenticeship is much, much more than that. I like to say that Praxis participants receive 2 years of work experience in their 6 month apprenticeship.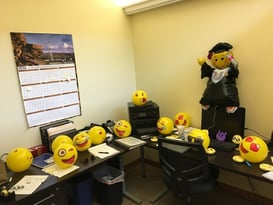 Where in a normal job, it might take you a months or years to get the opportunity to connect with the CEO of the company, wear multiple hats, or take on high value projects, Praxis participants have the opportunity to do this right off the bat.
During the program, Praxis participants will:
Shadow the CEO or executive team and learn the ins and outs of the business
Get customized job coaching from Praxis advisers and entrepreneurs in their fields
Learn transferable skills like sales, marketing, social media, business writing, invoicing, pitching, management and customer service from various departments
Lead self directed projects for their business partners
Learn firsthand how to run and grow a successful business
Create real value for their business partners — participants spend no more than 50% of time on administrative work
Get real world job experience, sidestep traditional gate keepers like college, and begin a great career now
In six months, they're running high traffic websites, developing business plans, managing teams, making the largest sales in their company's history, and being promoted before they've even completed the program.
That's not just because our participants are higher quality than you're average young professional. We've got this process down to a system.
The combination of the apprenticeship, professional coaching with Praxis advisers, and our education curriculum will take you very quickly from "zero to one."
If you're working on a challenging project at work, Praxis advisers will help you develop a learning and action plan to make sure it gets done. If you're tasked with learning a new piece of software, Praxis will connect you with an expert to help you do that in 20% of the time. We're ruthlessly committed to helping you succeed on the job.
And that commitment doesn't end with us. Our business partners share it as well.
Take a look at this tweet by Guild Quality founder Geoff Graham about Praxis participant Charles Porges to see what I mean:
Less than a month in, @CharlesPorges is already moving our needle at @GuildQuality. Very glad to have him. https://t.co/2cAgBgVJsj

— Geoff Graham (@geoffreydgraham) April 19, 2016
Where in a normal job, employers want you to take your paycheck and do good work, Praxis business partners are committed to the personal and professional growth of their participants in a way that a most entry level jobs simply won't support.
So, when you apprentice through Praxis, you're not just working for a company. You're getting a support and education network, opportunities that are not usually open to new employees, and the chance for rapid growth.